May 8, 2016 - Documentary Watchin: Aileen Wuornos: The Selling of a Serial Killer (1992)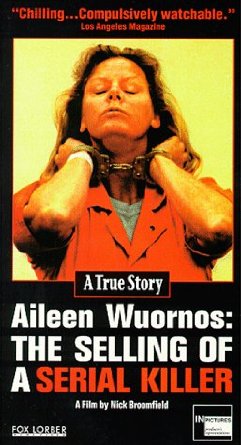 I'm pretty sure the story of Aileen Wuornos is fairly well known, but just in case, a brief recap: She was a lady who fell on hard times and had to turn to prostituting herself out to dudes, in spite of the fact that she was into other ladies, and eventually, she ended up murdering a whole bunch of them. She got tried and convicted and put on Death Row, (the place where the government kills people, not Suge Knight's label) despite the teensy-weensy chance that it could have been self defense and lingering suspicions that she got straight-up railroaded for political purposes. Eventually, she got executed and they made a movie about it and Charlize Theron tucked her chin into her chest and stuck her upper teeth out and won an Oscar and inched closer to the goal of every good actor (as well as every good human being) to be in the best Mad Max movie. And I'm pretty sure the life and times of Wuornos was what this was originally intended to be a documentary about, but it didn't happen, folks.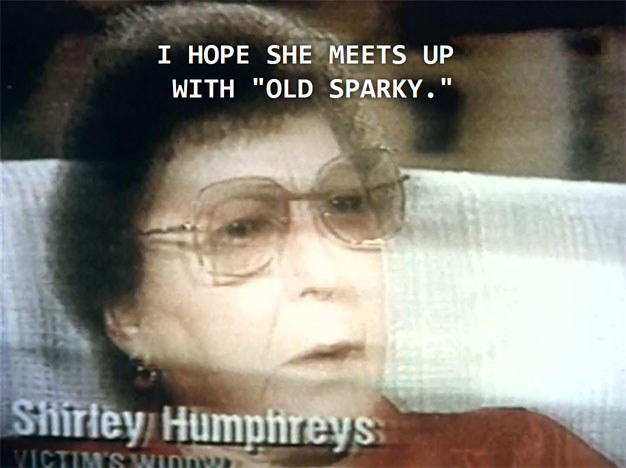 Somewhere, there is an alternate universe where things went as planned, and in that universe, there was a movie with the same title and same poster art that mainly consisted of prison interviews and respectable looking people in suits explaining and analyzing things; a documentary film that got into the details of the tragic events from various perspectives and tried to form some coherent vision of what the actual truth was. A dry-ass documentary that no one would have watched after 1994 or so, except maybe when they were tricked by shady DVD packaging into thinking it was Monster. But this isn't that universe. This is an amazing universe. This is Nick Broomfield's universe.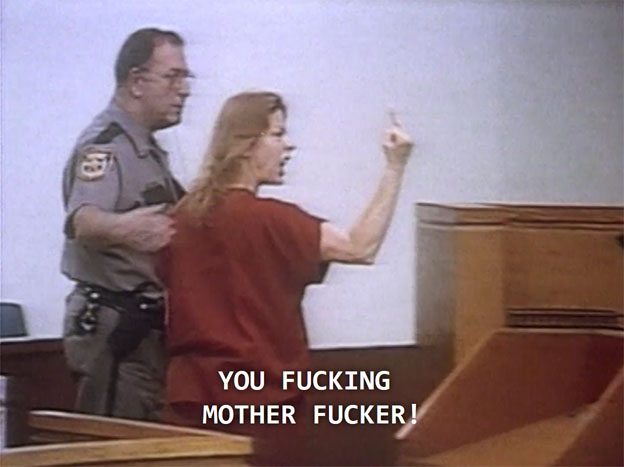 In case you're new around here, Nick Broomfield is the dude who also made Kurt & Courtney, (which I talked about a couple months ago) and he is the most useless member of the X-Men, whose mutant power is to create a field of absolute chaos (a Broom Field, if you will) wherever he goes. You could send him to do a quick piece on the time the Bravest Fireman saved the Cutest Kitten from the Most Beautiful Tree, and by the time he got there, reality would have been warped to a point where the kitten had sixteen arrest warrants pending and was running an insurance scam on the family of white supremacist survivalists that owned the property the tree was on, and the fireman would be revealed to literally be a resurrected G.G. Allin. This is a curse that Broomfield has had to bear for many years, which has resulted in many unintentionally amazing films, and I can only assume has cost the poor bastard tens of thousands of dollars and resulted in the need for numerous rabies and tetanus shots.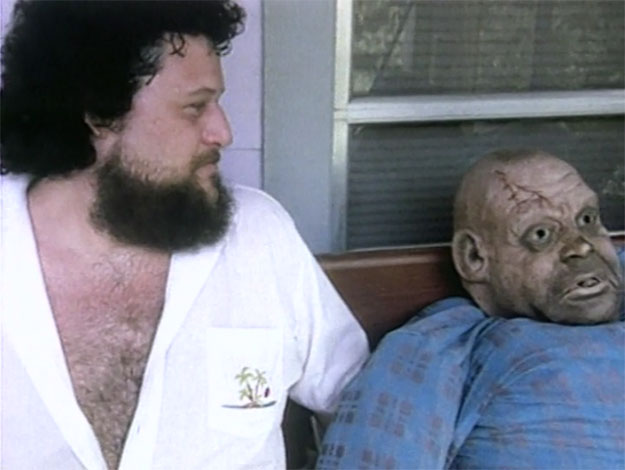 As a result of the Broomfield Effect, instead of telling a tale of sex and murder and the questionable application of justice, it's mostly a documentary about the attempts to make that documentary, which didn't actually get made until 2003. Let's put it this way: What do you expect from an interview with someone's lawyer? It's probably a quiet chat with a one of the aforementioned respectable-looking, suit-wearing people, and it's probably somewhere with a desk and a whole bunch of law books in the background. But in this, Poor Ol' Nick has to drive out to a mobile home in the middle of East Jesus somewhere, and the lawyer is a dope-smokin', guitar-strummin' Mark Boone Junior look alike, and I swear to any fucked-up god you can offer to me, he is sitting on the porch with his fucking imaginary friend. He has an imaginary friend that's some kind of homemade scarecrow/Tor Johnson hybrid thing named Lothar, and after a brief introduction, this is never mentioned again, because Nick Broomfield sees shit like that so often that he thinks it's normal, because of his goddamned mutant chaos projection.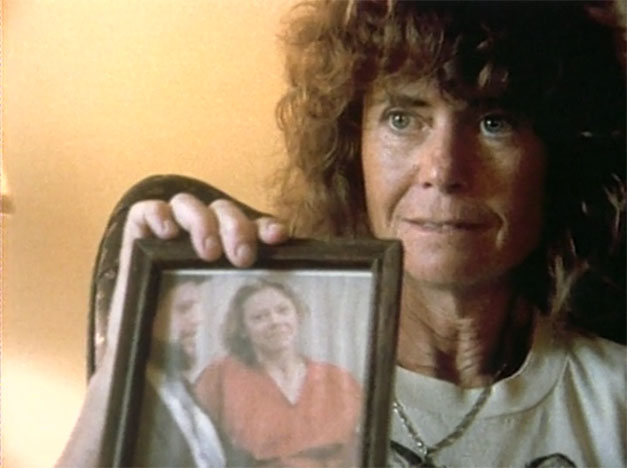 After that, the bulk of the movie involves Broomfield negotiating with Aileen's adoptive mother for the right to go see her in jail. This wouldn't sound so bad, except that Aileen's new mom is only a few years older than her, adopted her after she got busted for hella murders because she sensed she was her Friend in Jesus or some such nonsense, and she's asking for fifteen thousand dollars for the interview. She also raises wolves. And after he manages to negotiate the fee down to a mere ten grand, it seems like a lot of the conversation with Wuornos is a lot of mutual "man, this whole thing is fucked up, right? LOL." Of course,she wouldn't have actually said the letters L-O-L, because no one does that and it was '92 and chat speak didn't exist yet, but fuckin'-A, it's a Nick Broomfield flick, so if she had, it wouldn't have surprised me. I'm honestly shocked that El Duce didn't just pop out of the bottom of the screen going "YAAAAHHH" like the "Toasty" guy from Mortal Kombat at some point.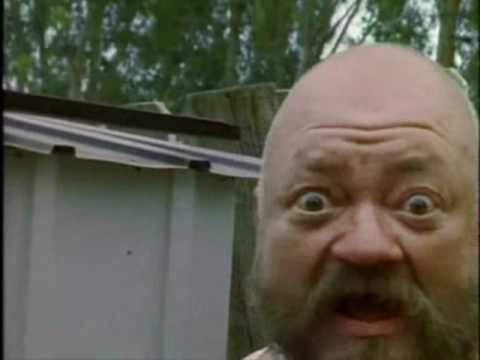 R.I.P.; he's getting his anal vapor smelled by angels now
In the end, the result is that the story being told is the one that's unfolding right in front of the cameras in real time, which ends up being way more interesting than what was the original intent. This is some real-ass Gonzo Journalism right here, but only more so, because you actually get to see that this shit really happened. When you read Fear and Loathing in Las Vegas, you have your doubts, because you know that Oscar Zeta Acosta wasn't actually a 300 pound Samoan, you're pretty sure that there were no dealings with a skag baron named Savage Henry, and it seems unlikely that anyone really tried to sell Dr. Thompson an ape. But this shit is being captured right before your eyeballs, and the Nick Broomfield Universe, where a convicted serial killer totally comes off like someone who would kill a bunch of people, yet seems more sane than a lot of the people surrounding her, is an undeniably true place. And in this world, this poor schmuck will continue to produce amazingly-doomed movies that we'll all watch with an uncomfortable tingle in our gut, hoping that if anything fucked up enough to make us famous ever happens, that he's not the guy who wants to tell our tale.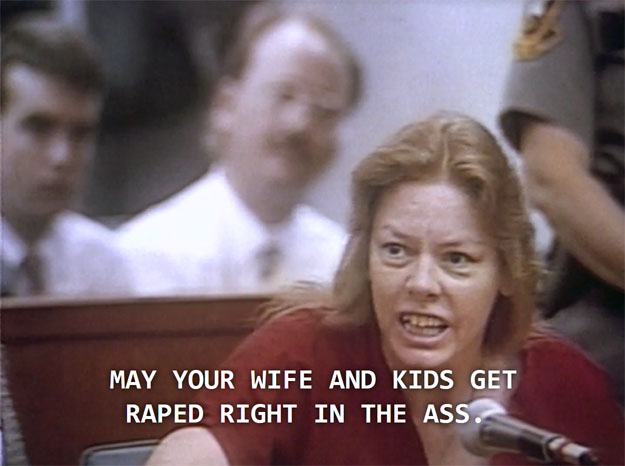 May 14, 2016 - A SPECIAL INTRODUCTION

I've been watching professional wrestling off and on (mostly on) for roughly thirty years now. It all started when happening across a comedy skit of Outlaw Ron Bass trying to teach "The Mouth of the South" Jimmy Hart to do lasso tricks led to a dark spiral of Hulk Hogan worship and spending the early 2000 on message boards having SERIOUS OPINIONS about the PRODUCT. Now, with some time to look back and examine my life, it's become apparent that wrestling is what's wrong with me. It's a Bad Thing that will rot your brain, and like most sinister institutions of self-destruction, it hooks you when you're young, and it will fuck you up bad if you're not careful. So that leads us to this thing right here - another ongoing website project that I'll never finish and barely even really start - which will be an examination of the times when the rasslin' betrayed and traumatized me as a youngster. So without further ado, here is the first installment of WHEN IT COMES CRASHIN' DOWN AND IT HURTS INSIDE.

WHEN IT COMES CRASHIN' DOWN AND IT HURTS INSIDE #1: GLOW 1986 - Susie Spirit's Elbow Returns to Its Home Planet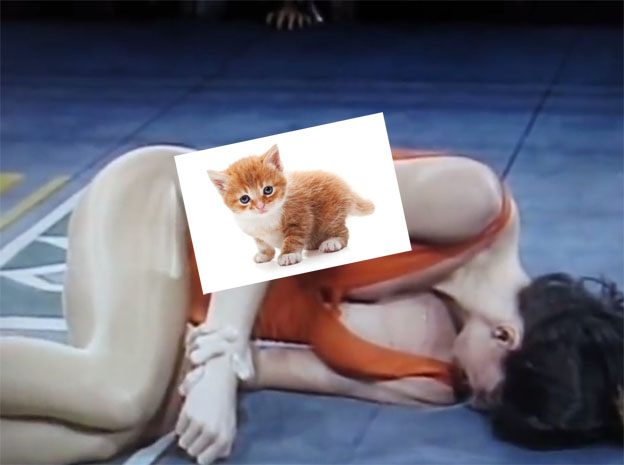 THAT KITTEN IS THERE FOR A REASON, PEOPLE

I probably should have put this in the introductory paragraph up there, but I was a pretty seriously loyal WWF kid, so most of the traumatic rasslin' moments of my childhood originate there, and most of them involved terrible storyline-based things happening to Hulk Hogan. But this isn't one of those; this is about real-life bad things happening to someone from GLOW. There are probably decent, normal people that might read this someday who don't keep up with bizarre second-tier wrestling promotions from thirty years ago, so I'll have to provide some background information. GLOW was a bizarre wrestling federation that popped up in the late eighties, whose name stood for Gorgeous Ladies of Wrestling, and you can kind of guess what sort of thing they specialized in, based on the name alone. And on one hand, it was exactly the sort of weird sleaze you're probably thinking of; barely-trained "wrestlers" rolling around and grappling with each other in leotards, with big ol' eighties Aqua Net hair and glittery shit glued to their faces. It got weird though, with a real heavy emphasis on comedy, complete with weird, corny-ass comedy segments (complete with laugh track) between matches that were like what would have happened if the creators of Laugh In were wrestling fans, rather than just Nixonites trying to infiltrate the counterculture, and pre-match wrestling promos replaced by the Gorgeous Ladies doing terrible "white people who don't know anything about rap" style rapping that bit heavily off the Super Bowl Shuffle instead.
Weird thing was, Vince Russo and Tammy Sytch didn't exist yet, so this was back when it was unheard of for anything truly risque to happen in televised wrestling. So as much as it was jiggle-TV for lonesome strokers who were up late when the free Cinemax preview weekend was over and USA Up All Night was showing a Chuck Norris movie, GLOW was also somehow a straight wrestling show that based itself heavily off the WWF Sports Entertainment Style of All-American Heroes saving the world from Evil Foreigners and Evil Broad Ethnic Stereotypes. It was the same thing, seriously. Tina Ferrari was the Hoganesque excessively-tanned superheroic champion of goodness, Colonel Ninotchka and Palestina the Syrian Terrorist played the same evil Russian/Arab roles that Nikolai Volkoff and the Iron Shiek played, Amy the Farmer's Daughter was Hilbilly Jim, the Heavy Metal Sisters were like if Demolition got really into Mercyful Fate, and Attache had the Sgt. Slaughter thing going, where she was the military character who was evil, despite 'Merica. And if you really think about it, Mount Fiji and Matilda the Hun (aka Queen Kong) each represented the duality of Andre the Giant, with Fiji as the gentle giant who fought for righteousness, and Matilda as an angry monster who smashed things and ate people. So as a little 7 year old kid who didn't see what the big deal was about boobs and butts, it was just another wrestling show that came on after WWF Superstars went off on Friday Nights. Of course, my brother was older and into it on a much different level, and I'm pretty sure somewhere during a match involving the vaguely gothic, goggle-eyed maniac wrestler called Dimentia, he became a man, but I'd rather not think about that right now. For me, it was like 80s WWF without dudes, and that's a helluva thing right there. I'm not sure if there's ever been a TV show, rasslin' or otherwise, that's toed the line between smut and children's programming so successfully. (Although I'm assuming a very specific breed of modern perv would probably throw out recent iterations of My Little Pony cartoons as an example, because God is dead, and we have killed him.)
But anyway, here's the match in question, WHICH YOU SHOULD NEVER, EVER, EVER WATCH, OH GOD. (Seriously, Ghoul Shit Warning is in full effect)
Unless you're a fucking ghoul who clicked play just now, I'll try and explain what happened here. It's a match between Susie Spirit and Debbie Debutante, who seem to just be two generic GLOW wrestlers, and The Headhunters, who were GLOW's somehow even more overtly-racist version of the classic Wild Samoan wrestling gimmick. Like if the Revival wrestled the Usos today, except Dash and Dawson would have less personality and Jimmy and Jey would have a lot more. Anyway, not much of note happens for the most part, until all of a sudden, somebody screws up somewhere, and Susie Spirit absolutely eats shit on an attempted sunset flip, and her elbow joint just ceases to exist, basically. The ref breaks it up, and it's
awful
. Like her forearm was just not connected anymore in any meaningful way, and bones are pointing in directions they aren't supposed to, and
they zoom in on it
, and they just show it
over and over and over and over
like when Lawrence Taylor broke Joe Theisman's leg, and you can see shapes and outlines and shit, and aw fuck, I'm covered in cobras again.
And here's the thing. When this happened, I was probably six or seven years old, (all the info I've found online says it happened in 1986, but I don't think I even watched wrestling until a year later, so it must have been a rerun in syndication) and I fully believed in the Truth of Wrestling. It was real to me, dammit. Thing was, like most tiny rasslin' fans, I was constantly hearing that it was all fake from various classmates and 60 Minutes correspondents. and while I knew that they were all damnable liars attempting to decieve me, I really think that some part of what they were saying got through to me and sat there in my subconscious mind. So while I was sure that rasslin' was real and Hulk Hogan was the Earth's mightiest hero, I think there was just enough of a seed of doubt - even if I didn't realize that it was there - to put my mind at ease when something really bad would happen in the ring. That tiny spark of disbelief let me know that it was all going to be okay; the blood was just ketchup, these guys were all best friends, and Andre probably apologized to Leapin' Lanny Poffo after he nearly headbutted him to death on Saturday Night's Main Event. Everything was going to be cool. Until this. When Susie Spirit's elbow dislocated, it showed me definitively that WRESTLING IS REAL, and rather than fictional superheroes, wrestlers were regular humans with bones and blood and organs, and they could all feel pain and bleed and die, EVEN HULK HOGAN. The stakes were higher than ever, and life and death and justice and freedom were all riding on whether or not the good guys won. Honestly, this match was probably the one that opened Pandora's Box inside my brain and made it possible for wrestling to traumatize me as a child in the first place. So thanks a lot, Susie Spirit's Elbow, you're what's wrong with me today.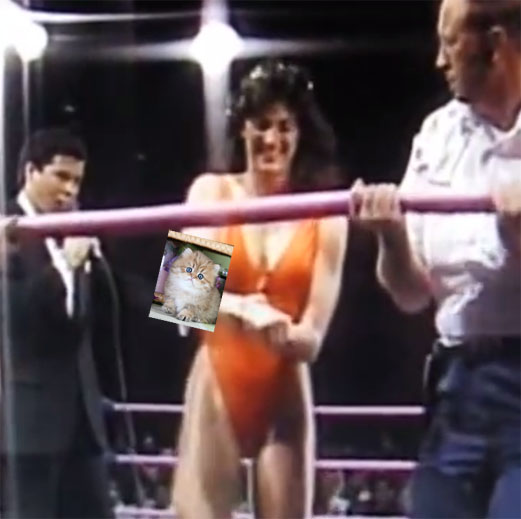 I have to add this extra little thought at the end, though, after making the mistake of rewatching this match. Wrestling is a violent, brutal pseudo-sport, and as a result, there's a long history of Bad Motherfuckers and Tough Sumbitches participating in it and working through their own horrifying injuries. Like when Vader had to push his eye back into the socket and still finished the match, or when Stone Cold Steve Austin literally won a match while being partially paralyzed. There was another time when Akira Hokuto broke her neck in the first fall of a three-fall match and held her head in place with her hands for the next two falls, not to mention the time when Ric Flair sustained career-ending back injuries in a plane crash and retired almost forty years later. But do you see that picture up there, and what's happening in it? THAT CRAZY MOTHERFUCKER IS SMILING. She's literally having to hold the lower half of her arm in place, but she's so dedicated to the gimmick of... uhhh, being a person with a lot of spirit, I guess, that she can't be seen screaming and crying and pooping everywhere, which is what I'd probably be doing if it was me in such a damn predicament. So yeah, it's real impressive that Vader popped his eyeball back in or whatever, but you know none of those folks would've been able to cheese for the drunks in the front row while any of this was going on. So the toughest wrestler isn't Vader or Austin or Hokuto or Flair or Funk or Foley or any of the obvious names that come to mind. The toughest motherfucker of all times is Susie Spirit, and it always has been, you guys.
May 28, 2016 - Y'all Should Listen to Only Living Witness
INTRO: I have a job a that a monkey who was very aware of its surroundings and had a basic grasp of a touch screen could do, so I have a lot of mental free time. And I was thinking a lot about some old bands I liked, and since I have this brain disease, I thought that maybe I could talk about it on the internet, and I went to work trying to think about how to go about it. And after a while of trying to formulate some sort of heavily-structured "Top X Blahs that Blahblahblah," I remembered that I'm not feeding anyone's buzz, no one's gonna read this, there are no clicks for me to be baiting, and in these post-blog Artisanal Web Styles, you just think of something and do it. So I'm gonna close this introductory paragraph by saying that Only Living Witness was the best, and that y'all should listen to them.
From:
Boston, MA
Years active: 1989-95, 2008
Discography: Complex Man 7" (1990), Prone Mortal Form (1993), Freaklaw 7" (1995), Innocents (1996)
Some Related Bands: Formicide, The Shods, Miltown, Milligram, Raw Radar War, Slapshot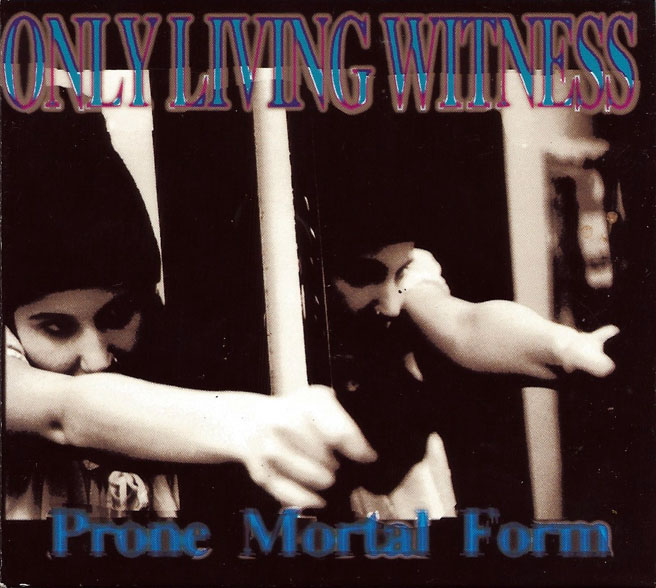 Most Ridiculous Purchase I've Made:
Made the dreaded double-dip on
Prone Mortal Form
, spending $15 on Ebay for the German import version that has a different cover and the first 7" and a compilation track added on at the end as bonus material. And that 2CD set of both their albums has a bunch of extra stuff that you can only get there, and I was too dumb to grab it in 2006, so I'm sure I'll ending up dropping "out-of-print CD that people actually want" money on it someday.
Words: These dudes should have been huge. And I'm saying that in that ignorant internet metalhead way, where people act like they honestly believe the only reason that Rotting Christ never tore up the charts and won the hearts and minds of all the Ricky Martin fans out in these streets was because MTV wouldn't play them. I mean it could have actually happened. Or not, who knows. Maybe whatever added layers of polish a major label would have thrown on them would've ruined it, but we'll never know. (Also, there's the fact that singer Jonah Jenkins's first post-OLW band, Miltown, has a finished major label album that's gone unreleased since like 1998, over disagreements that started with the company people "not hearing a single," so maybe there's no platinum unfulfilled destiny there.) But despite the lack of super-shiny polished production and radio-ready dance party hooks or whatever, the two albums they dropped back in the 90s wouldn't have been out of place next to a lot of stuff that did blow up, and if regular people had heard them, they probably would've liked them. But I dunno if they were too emotional for the metal kids or too metal for the punk kids or not "GRR TUFF" enough for the hardcore kids or whatever, but they came and went and most people didn't notice, and now, they're one of the bands that freak people out when they hear them on the internet years after establishing an existence in the past tense. (It me; I had never heard of them until solid dude Bobby mailed me a dubbed cassette copy of Innocents in either '99 or 2000)
Musically, people seem to have a hard time definitively categorizing these guys, and I've seen everything from alternative to post-hardcore to doom metal (which is a stretch), but most often, people just say "metal," because it's easier, and it's true. But the main thing to remember is that they managed to find that perfect sweet spot of being all melodic and just kind of generally rocking, while still managing to be GOD DANG HEAVY AS HECK at points. Like you should all really listen to the title track off Prone Mortal Form, but do so cautiously, because the first 30 seconds or so will knock over your house and crush everything you love.
And the real secret weapon with these dudes is the singer, Jonah Jenkins. And pretty much every band he's been (see also Miltown, Milligram, and Raw Radar War) in has been good, and he's always been the best part, but Only Living Witness featured holmes at the height of his powers. THAT BOY CAN SANG, and it was the difference between these dudes being a good band that some people remember fondly and being secret legends that people are pissed that no one knows who they are.And they only had two albums, but they were both awesome, and you all need them both, but especially Innocents, which is probably one of my all-time unrealistically good favorite albums by anyone, ever.
God damn.

PERFECT TEN-SONG MIXED TAPE FOR YOU TO SEEK OUT ON YOUTUBE OR SPOTIFY OR WHEREVER THAT I'LL DISAGREE WITH IN A MINUTE, PROBABLY:
"No Eden"
"Prone Mortal Form"
"Some Will Never Know"
"Strata"
"Voice of Disrepair"
"Knew Her Gone"
"Freaklaw"
"Dying System"
"Downpour"
"December"
May 30, 2016 - RASSLEMAN SPOTLIGHT: Eddie Guerrero (1967-2005)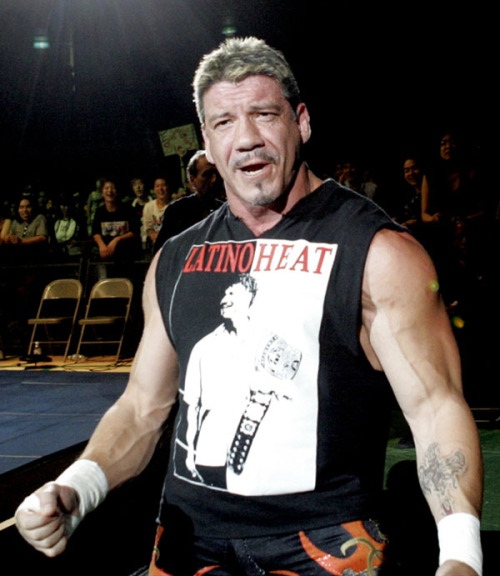 (aka Eduardo Gory Guerrero Llanes, Eddy Guerrero, Black Tiger II, Mascara Magica, Gory Guerrero Jr., etc.)
Eddie Guerrero was the best, you guys. God damn. If you are any sort of wrestling fan, and you don't think so, I hate you. Seriously, I am making a judgment of your character, and I am telling you that you are a bad person that should suffer daily. I wish you ill. I promise you no matter what, I will never be your friend, and I will never forgive you, and I will hate you for the rest of your life. I deem you false™ and I rebuke you. But man, for the rest of you, Eddie Guerrero was so dang good at everything, wasn't he?
SELECTIONS FOR YOUSE GUYS:
AAA - Los Gringos Locos (Eddy Guerrero & "Love Machine" Art Barr) vs. El Hijo Del Santo & Octagon (Mascara contra Caballera, 1994) - This is the sort of evil shit that you're just not allowed to do anymore in wrestling. Basically, Eddy and Art Barr are evil, because they're the worst sort of Americans, doing American Shit, all "ha ha fuck you Mexicans! You're Mexicans! Go swim across the border, you stupid Mexicans!" and it's a AAA show in Los Angeles, so this is not welcome behavior as much as it was when Jack Swagger and Dutch Mantell were doing it a couple years ago. But in the end, it's all okay, because they're up against some real-life goddamn Mexican Superheroes, and even after Octagon gets laid low due to sneaky American Bullshit, Santito saves the day and defeats the invaders for the good of the nation, and Mexico's national sovereignty is secured, and the bad guys have to shave their own heads. Justice. But yeah, everything about this is awesome, and you have to wonder what Art Barr might have managed to do if he made it to the height of the WCW cruiserweight division or those couple years when WWE Smackdown was actually good. Cocaine is a helluva drug.
IWA Mid-South - Eddie Guerrero vs. Rey Misterio Jr. vs. CM Punk (IWA Mid South World Championship - 2002)
Man, it's just weird that this match even happened where it did. IWAMS is (Or was? Hell, I dunno. They were having "(insert most recent dead WWE guy) Memorial Spaghetti Supper and Deathmatch Tournament" fundraisers almost monthly at one point to keep the place from going under last time I paid attention, but I always assumed it was Ian Rotten trying to crowd fund a jet ski.) mostly known as a greasy-ass deathmatch promotion, and even though they cleaned that up a little, it hadn't really happened by 2002. So all of a sudden, here was Eddie, fresh off a Steven Regal-style "you're fired, but you can come back when you can pass a pee test" firing from the WWE, taking on a post-WCW, pre-WWE Rey Misterio Jr., and CM Punk, who was pretty much every mouth-breathing, Mountain Dew bottle-pissing internet wrestling nerd's top dude at this point. From here, Eddie would go back to New York and work his way up to being a main event, world champion style dude, and Rey would get hired and meet similar success, after getting stripped of the "Junior," getting so gassed up on various PEDs that he probably won't live to be elderly, (which, oddly enough, is pretty much what happened to Eddie) and betraying the ritual purity of lucha libre by unceremoniously putting back on the mask that he lost fair and square to notorious rudo "Gran Atractivo" Kevin Nash. Punk would go on to spend a few more years as the official "oh man, this guy is so good, but it's a shame he'll never get paid on account of scrawniness," guy before actually going to the WWE, becoming bigger than John Cena and the hero to millions, and then quitting the business as the Righeous Man who finally beat Vince. From there, he would sign with the UFC and start a downward spiral toward becoming the most despised man in both wrestling and MMA, for doing the same sort of shit he accused the WWE of doing to him, but on a grander scale, on account of Dana White paying UFC dudes so little that they gotta flip burgers and dig ditches during the week. I don't even have an opinion of the match, aside from that CM Punk's greatest achievement was somehow becoming a bigger asshole than Vince McMahon.
WWE - Eddie Guerrero vs. Bubba Ray Dudley (2004)
This seems like a bizarre choice for being something for you people to watch, being the worst-possible quality recording, like someone bootlegging Smackdown in a movie theater or something, and it's just Eddie in a match against a tag team guy, but this match is special to me. You see, I was at the show when they taped this match, and earlier in the night, either during the Velocity taping or some dark matches (which included a pre-debut Mordecai,as well as Funaki totally acknowledging me, because I was the only one in the crowd who understood that Kaientai DX was the greatest enough to cheer for him) I was being a shitty internet nerd wrestling fan. I don't remember who it was, but there was either someone who was the good guy in a match that I hated or a bad guy that I liked, and I was cheering and/or booing the guy I wasn't supposed to. The obvious answer would be that I was booing John Cena, but this was back when he was still Rapping Smartass Throwback Jersey Cena that people actually liked, before his transition to being Poochie the Troop Respectin' Dog Cena, so that probably wasn't it. A mystery for the ages. But anyway, I'm being a dick, and this little kid in the row in front of us turns around and gives me this look. Like this completely heartbroken, wounded look, like he's just finally learning that there are bad people in the world, and I felt like a huge piece of rotten dirt before I went back to being Terrible Internet Guy again. Then, later in the night, Eddie fights Bubba Ray in the main event, and the place is going absolutely BONKERS for Eddie Guerrero. Like the entire world converged on the Ford Center and started chanting "EDDIE! EDDIE!" in unison, and I'm doing it too, and that little kid from earlier turns around and kinda smiles and nods, like I had redeemed myself for all my past transgressions and everything was going to be okay, because pro wrestling is beautiful sometimes, and Eddie Guerrerro was probably the best ever to do it.