An important thing to remember is that in the mid/late 80s, wrestling hadn't yet admitted that it wasn't real. I mean, I'm sure someone could have surmised this from the way fights didn't end in a single punch followed by a headlock and occasionally, a masked man would jump off of something tall, but it wasn't yet shouted from all the mountaintops. Nikita Koloff was still speaking broken Russian at the grocery store, Bill Watts was still firing people for losing bar fights, and if you were seven years old, there was no doubt. It was real, and it was important, and much like your parents or President Reagan, wrestling would never lie to us. Evil exists, and a lot of rasslers were its earthbound ambassadors. And sometimes, the very concept of the existence of some of these bad guys could really fuck me up, without one single triggering event. Bad Guys of Extraordinary Magnitude.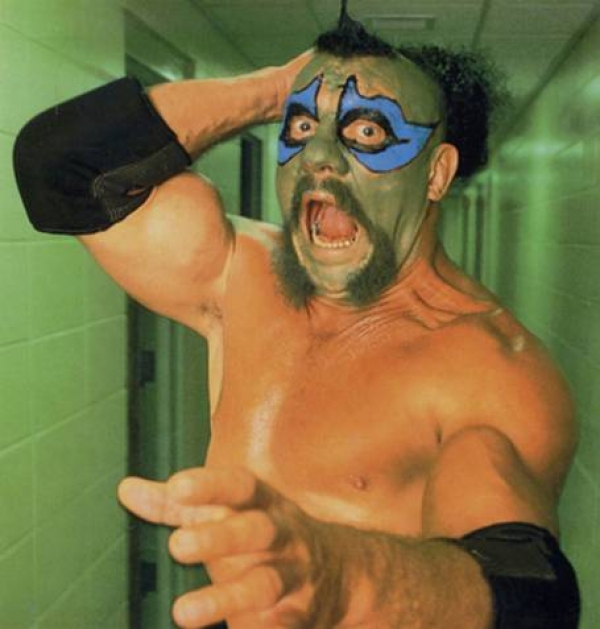 The Missing Link was one such villain whose field of menace was strong enough that he scarred my fragile psyche despite me being a WWF kid and him mostly running around various NWA territories by the time I found out about him. Because most wrestling villains were bad men, but at the end of the day, they were just men. Andre may have been a Giant, Jake may have been a Snake, Ted DiBiase might have wielded the corrupting influence of exactly one million dollars, and Adorable Adrian Adonis may have challenged the traditional views of gender instilled in us by our good Christian upbringings, but they were like us; they could feel pain, they could bleed from their foreheads, and they couldn't withstand the force of the Patented Hogan Leg Drop. They were mere mortal humans, when you get right down to it. But the Missing Link... Was not. Here was this crazy-haired, green-faced prehistoric sasquatch lizard sonofabitch who was made entirely of muscles, and if you had tried to convince me that he was an actual human being, I wouldn't have believed you. Humanoid maybe, but at best an unholy caveman/reptile hybrid. Like if he really was the Missing Link, it was a link between Homo Erectus and The Mighty Megalosaurus or something. And he was immune to headbutts, and he was allowed to roam freely on these streets. He coulda bit somebody and gave them rabies. Fuckin samsquamptches. Throughout all of the crap being a tiny wrestling fan put the through, The Missing Link was the only bad guy wrestler that I literally had nightmares about. (Unless you count the Greg Valentine dream, but that dream happened in the format of an A-Team episode. And yes, I will get to that one someday.)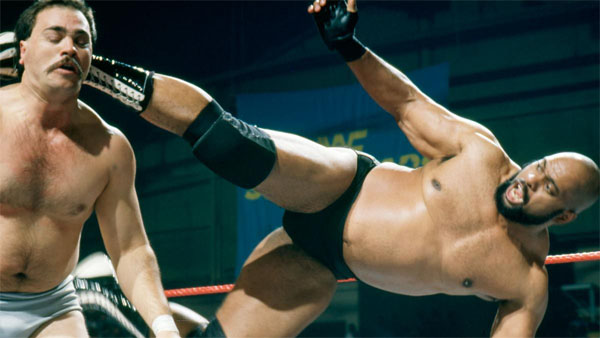 Bad News Brown's backstory is simple: Stampede Wrestling star Bad News Allen signed with the WWF, Vince McMahon saw a Canadian former judo champion and immediately thought "angry black man from Harlem," and changed his name to Brown, because he's a huge racist. And man, when I was little, Bad News Brown scared the shit out of me. Like the big fear attached to most rasslin villains was that they would do bad things to our favorite good guys and take their championships and whatnot, but Bad News just seemed like he was coming after us personally. It reminds me of something Stone Cold Steve Austin said on his podcast about Ron Simmons (and I think he was paraphrasing someone else, so we got quoteception going on) that applies here: "He could stand in the ring and read the phone book, and you'd believe him, and you'd be scared." So even though I had never drank a beer or tilled the soil in place of paying rent, when he would call the crowd a bunch of beer-bellied sharecroppers, I just knew that he was talking about me, and I just knew he was coming to kick my ass somehow. Like I'd just be chilling in my room, and he'd bust in with the giant mutant sewer rats he had bred to kill Jake the Snake's python, he would just hit me with the Ghetto Blaster, (aka enzuigiri, aka that kick you could never get Fighter Hayabusa lined up right to do in NES Pro Wrestling) and I would be killed, and that would be it. After all, his big catchphrase was "take no prisoners, give no mercy," meaning that he would totally kill a dude in the ring if he had to. Looking back, I don't know if I was being subconsciously racist due to my Mississippi upbringing, honestly so much as I'm pretty sure I just thought he was a dude who didn't like white people. So as a six year old, I was pretty much the "well actually, the REAL racists are ______" guy that ruins your Facebook political conversations, at least as far as it pertained to the rasslin'. Jesus. Whitney Houston once told me that the children are our future, and it came true, and that's why we're fucked. As a former child, sorry about Donald Trump and whatever wars and famines he starts. My bad.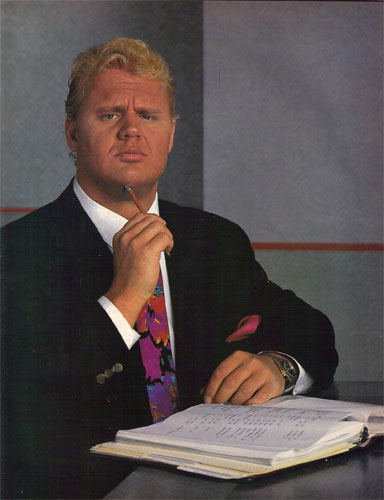 "Mr. Perfect" Curt Hennig was unique as a dude who scared the shit out of Little Me, in that he was neither monstrous in appearance like the Missing Link or filled with rage, like Bad News Brown. The problem with him as a villain was that he was, well, perfect. Absolutely perfect. And it wasn't no bullshit, neither, as they kept showing all these videos of him hitting holes-in-one and full-court basketball shots, and throwing passes to himself while Vikings tight end Steve Jordan looked on in awe. (and this also made sense, as I was already a Bears fan by this point, so of course the Vikings would be hanging out with Evil Men.) And I was a stupid sack of shit as a little kid, but I was familiar enough with a dictionary to know what "perfect" meant, and it meant a condition where nothing could ever possibly be better. This man was absolutely undefeatable in any situation, and he was coming for Hulk Hogan. Younger folks might not understand this, but Hulkamania was like the world's worst religion, and little kids were it's stupidest followers. And Hulk Hogan was both our god and our messiah, and our only contact with him was through watching him face severe physical harm. Imagine being a Christian and turning on your TV every week with the fear that this might be the episode where God dies. Yeah. Hulkamania fucks you up. And here comes this dude, who by the very definition of the words in his name could never lose, and his finishing move is The Perfect-Plex, a fisherman suplex hold that absolutely cannot be escaped. Seriously, he performed this Plex with such Perfection that if he so desired, he could hit you with it and just hold it there indefinitely, theoretically until his opponent simply passed on into death. And for all other wrestlers, ranging in alignment from lawful-good to chaotic-evil, the ultimate goal was the World Championship belt; the ultimate be-all, end-all symbol of everything in the noble sport of professional wrestling. And what did Mr. Perfect do when he stole the belt after cheating to help "The Genius" Lanny Poffo literally defeat Hogan by countout? He smashed it with a damn hammer. Not only was Mr. Perfect an insurmountable threat to the living avatar of human goodness, but this man was a fucking nihilist. I mean, say what you want about the tenets of Hulkamania, but at least it's an ethos.

NEXT TIME, IF I EVER GET AROUND TO IT: #3: Andre Joins the Dark Side
July 11, 2016 - THE TOP MILLION BILLION VIDEO GAMES OF ALL TIME: Them Fallouts (Permalink)

Picking up where I left off on the old WordPress version, I tell you all why I like the Fallout series, most assuredly an unpopular and controversial opinion that no one has ever expressed before, for fear of violent reprisal. (also, yeah, I'm kinda moving away from the format of putting entire articles on the main page, which seemingly defeats the purpose of abandoning the traditional blog format, but FUCK YOU, MY WAYS ARE MY OWN. Also, due to my laziness, the next Monthly Dump will be a two-month issue.)
(Before we get started here, I haven't actually played ALL the Fallout games, which is why Fallout Tactics, Brotherhood of Steel, Van Buren, and Fallout 4 don't show up here.)
Systems I Played Them On: PC (1 and 2), XBox 360 (also Playstation 3 and PC - 3 and NV), Android (Shelter)

Release Dates: 1998, 1999, 2008, 2010, 2015
Developers: Black Isle Studios (1 and 2), Bethesda Game Studios (3) and Obsidian Entertainment (NV), Behaviour Interactive (Shelter)
Ppublishers: Interplay Entertainment (1 and 2), Bethesda Softworks
Best Football Cards I Pulled in All those Years: 1998 UD Choice Peyton Manning DN, honestly dunno if I bought any in '99, 2008 Leaf Rookies & Stars Longevity Matt Ryan AUTO RC, 2010 Topps Chrome C.J. Spiller AUTO, didn't buy any in 2015.
Cool Heavy Metal Albums From Those Years: The Chemical Wedding by Bruce Dickinson (98), Bigger Than the Devil by S.O.D. (99), Bloody Pit of Horror by GWAR (2010), and The Book of Souls by Iron Maiden (2015)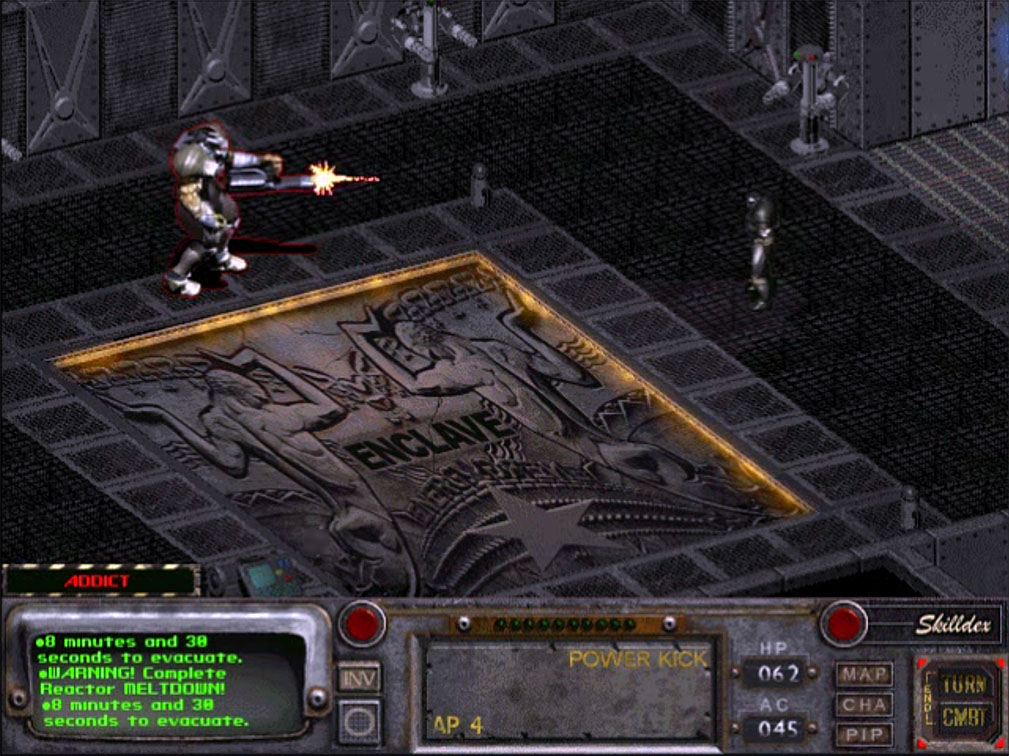 My introduction to the Fallout series was back around late 2000 or maybe 2001, when I stopped by the local Walmart for whatever it was I was headed there for, and made the usual stop by the electronics section to gaze longingly at things I couldn't afford. I would always make a point to hit up the various cheapo discount sections they had prior to the existence of the $5 DVD bin, and occasionally, I'd get lucky, like that time I got a cassette copy of See You in Hell by Grim Reaper for like four bucks. Anyway, they had a CD-ROM two-pack with both Fallout and Fallout 2 in it for ten bucks, and oh sweet Jesus, the system requirements were right in the sweet spot of what my already-miserably-outdated Micron PC could handle. (366 MHz was probably decent in 1999, though) I knew jack shit about PC gaming and was going in completely blind as far as what the Fallouts were about, but it was two games for ten dollars. And now that I think about it, I bought Fallout 3 with an Amazon gift card and New Vegas was a gift from my wife, so between a couple DLCs and that time I bought some lunchboxes on Fallout Shelter, I think my total expenditures on all of these are still under twenty bucks. Hopefully, this streak of luck continues, and I can find an XBox One with a copy of Fallout 4 stashed behind a dumpster or something. A boy can dream, I guess.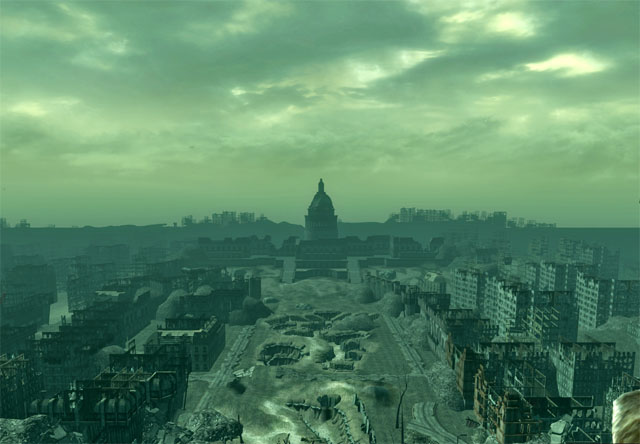 THE CASE FOR: Really above all else, it's the world they built for these things. Post-Nuclear apocalyptic future stuff has always been a cool place to go for your science fiction of a fantastical nature, and throwing that extra little curve of an alternate timeline where 2070s America was basically 1950s America with robots makes it even better. Especially now in these times when (white) people seem to be longing to a return to that idyllic time that never existed, when Leave it to Beaver reruns kind of glossed over the way the cops were all Klansmen and people walked around just assume half the world could get blown to smithereens any day now. Come to think of it, the 2010s are a lot like the 1950s, just with smaller bombs. Huh. Anyway, Fallout sets you down inside a world where those innocent times got vaporized in a nuclear war with China, and even though it's been over a hundred years, (200 years, once Fallout 3 hits) mankind is still fucked, living just slightly better than Mad Max style barbarism, and even that is under threat from crazy-ass mutants and giant scorpions running around. Not to mention the folks that rode out Armageddon inside those squeaky-clean underground vaults coming to the surface to have to deal with all this bullshit, and the poor saps who ended up in one of the shady-ass experimental vaults instead. And there are just layers and layers of stuff like this, and it all works and fits together, and it's craaaazy. With the Fallout series, you've got a fully fleshed-out, lived-in universe going on that feels more like it's already existed for a while, as opposed to one that's being made up on the fly. And when you're talking role-playing games, if the world you've built isn't any good, you've got nothing.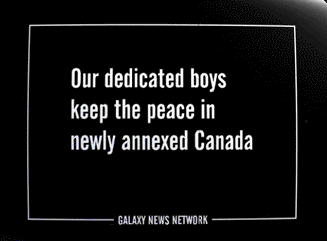 (Which is not to say that's a "good" world, but it's one that's good to set a video game in.)
Another thing worth mentioning is how once the series made the jump to 3D, they resisted the urge to go full-on first-person shooter with it. I mean, it's still a lot of shooting done from a first-person perspective, and the turn-based thing was gone, but it's still more thinking than reflex, and the VATs targeting system restores some semblance of a turn-based combat system, even if you can only use that sparingly. Somehow, they managed to make a Fallout game out of Elder Scrolls: Oblivion while still making it feel like a Fallout game, probably owing to how absurdly strong the world they built for it is.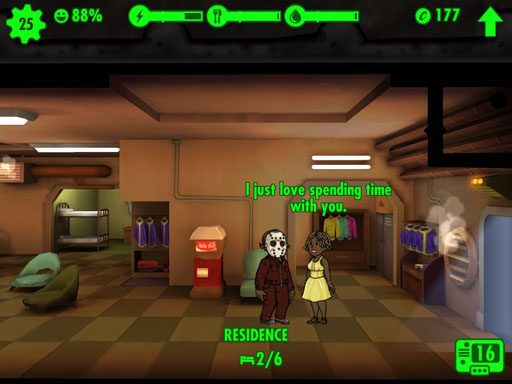 Also, I know it's a lot closer to a large scale digital pet than an actual video game, but Fallout Shelter is perfect and beautiful, so fuck you.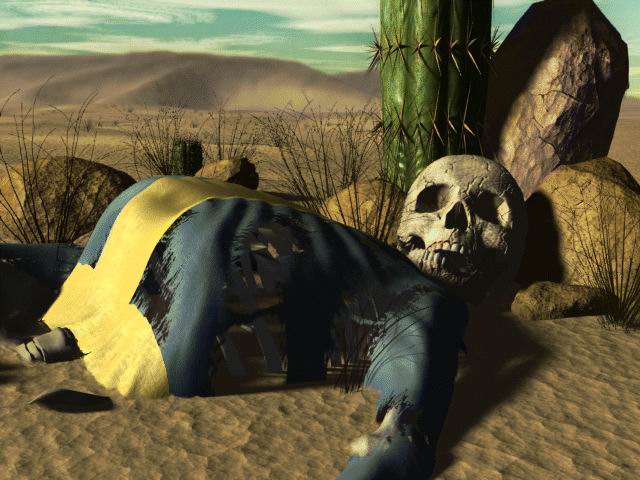 THE CASE AGAINST: I guess if I had to make a case against Fallouts 1 and 2, they'd mostly boil down to me being a dude who grew up on console games, who was not prepared for the way that PC games are a lot more likely to let you fail horribly and irrevocably with little to no warning. Kill the wrong dude or forget to pick up the right item and you could get stuck with no way out, and if you forgot to save (and save often, on multiple save files) you couldn't fix the damage you had done without losing hours of time you could have better spent looking at a tree or petting a cool dog or something. PC games didn't hold your dick for you the way the Super Nintendo did, and it cost me dearly on multiple occasions. Still though, that's probably not the game's fault. It's not you, Fallout 2, it's me.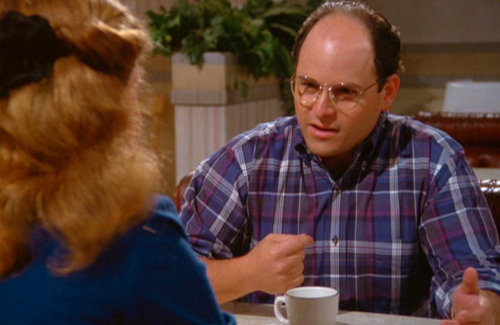 As for the 3D Bethesda games, the main thing would be that both Fallout 3 and New Vegas are glitchy pieces of shit. Seriously. For a normal game, the signal that you need to stop playing is something like watery eyes or the realization that it's late, you have work the next day, and you haven't fed the cats yet. These two have a pretty definitive signal for when it's time to turn off the XBox, and that's when the screen freezes and the controller no longer responds to anything you do. Also, I never have completed Fallout 3's Head of State side quest, because the game simultaneously decided that I never actually picked up the poster of the Lincoln Memorial that's still in my inventory, and that Caleb Smith's home planet needed him, so he has disappeared without a trace. And they've had damn near a decade to make some sort of patch for some of this stuff by now, Jesus.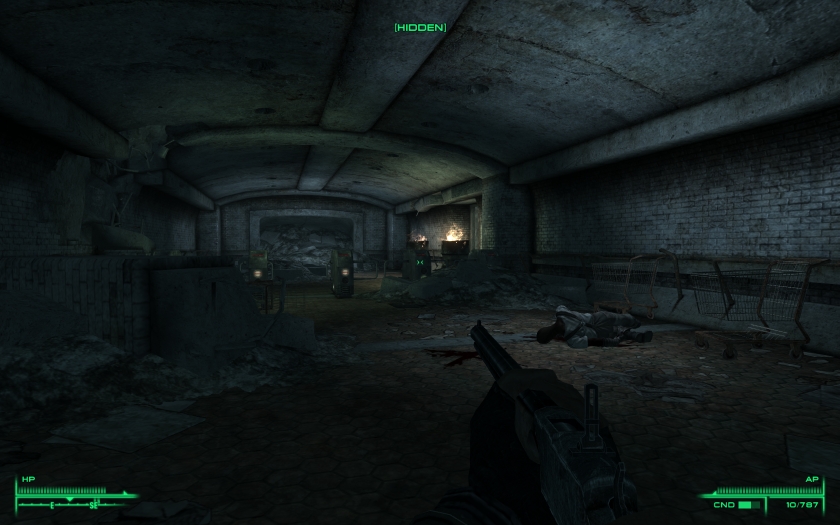 Get ready for a whole lotta this.
Also, Fallout 3 specifically suffers from the way that most of the game takes place in ghoul-infested underground tunnels. I mean, it makes sense, because in reality, an atomically destroyed metropolitan area would be hard to navigate on the surface, but it just turns way too much into a zombie survival horror game where everything looks the same. Then there's the ending, and I don't want to make with the spoilers and spoileriffically spoil the ending in a spoilerlicious fashion, so I'm gonna hide the next paragraph using the magic of CSS styles. So if you're using a version of Netscape Navigator from 1998, uhh, sorry for spoiling the game. (For the rest of you, just click and drag to select the text.)
Simply put, the ending of Fallout 3 sucks. The major climactic battle scene involves you just kind of walking behind Liberty Prime while he (it?) does all the actual activity, and there's no big boss for you to overcome at the end. I mean, theoretically, there's Colonel Autumn, but he's just a regular dude who's relatively lightly armed and probably goes down easier then some of the nameless lackeys that are with him. He's an afterthought. Fallout 1 had you take on the Master, horrifying mutant computer psychic thing, New Vegas had Legate Lanius, who was a gigantic dude in scary ass armor, and Fallout 2 had one of the most crazy overpowered villains ever, Frank Horrigan, who was basically twice as large and scarily-armored as Lanius. 3 just has a pushover in a trenchcoat, and a multiple choice ending where you gain nothing from the evil choice, the noble sacrifice still ends your game forever unless you bought the Broken Steel expansion, and it doesn't let you take the common sense option with Fawkes on your team. Come on now.
All this being said, I actually liked the modernized 3D games a lot better than the classic overhead view ones, and New Vegas in particular is a masterpiece that stands out above the rest, sort of like the way Red Dead Redemption relates to the Grand Theft Auto series. (although that may just be some sort of subconscious suggestion due to all the deserts and twangy Western music and whatnot?) Anyway, like I said earlier, I've never played Tactics or Brotherhood of Steel, and I pretty much can't afford the means to play Fallout 4 right now, but aside from those (And Wasteland, to which Fallout was kind of an unofficial sequel. Really need to get DOSBox working, you guys) there's never been a bad Fallout game, and that's why it's blown up all huge and you can find Vault Boy t-shirts at Walmart now.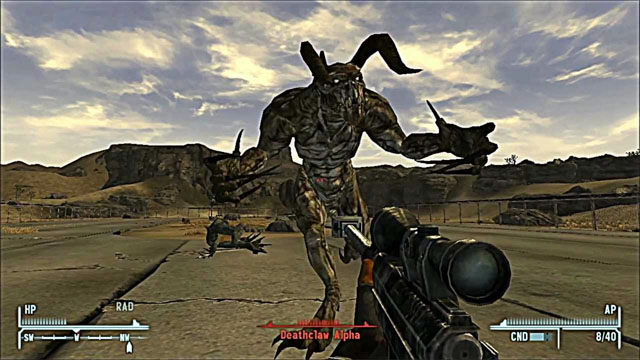 Personal Memory: Friends, I have a confession to make. That part earlier, where i mentioned how Fallout 1 and 2 would let you get irreversibly stuck somewhere if you screwed up and didn't keep multiple save files? Yeah, that happened to me. Got to the military base and took out the Lieutenant, but killed the wrong mutant somewhere and didn't have the right key to the right door somewhere, so I couldn't actually get out of the building. So I saved the game, hoping to just come back later and figure it out. I saved it over my only previously existing save file, and after a few weeks of hitting the same dead ends, I realized that I had pretty much fatally screwed up, and I got pissed and just started playing Fallout 2, rather than start over. So yeah, I have never actually beaten the first Fallout game. I am a fraud. This has been a difficult confession to make, and my family and I would appreciate if you'd all respect our privacy as we hope to let the healing begin.
July 21, 2016 - RASSLEMYN SPOTLIGHT: MANAMI TOYOTA (Permalink)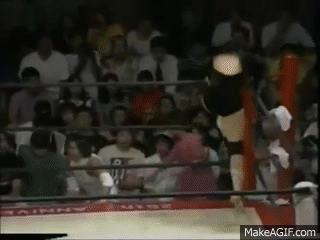 Manami Toyota is pretty much the best goddamn rassler who ever goddamn lived, goddammit, and LET ME GODDAMN TELL YOU ABOUT IT.