…Because the night is dark and full of terrors.
Here's another one of those weird internet projects I'll start and never finish, but which sounds like a pretty good idea, so I'm still starting it, even though I know damn well I'll never finish it. Uhh, anyway. The third season of Game of Thrones ended not that long ago, and I actually managed to watch it in a timely manner for a change, through means that were totally legal, honestly for real, and I'm sure the NSA dude that's assigned to my IP address will vouch for me, especially after I sent him that fancy cookie bouquet. (Of course, if I did manage to watch the show illegally, fuck you, I'm gonna end up buying the DVDs later, so you can go screw, Jack Valenti or whoever it is that sends the lawyers after people.) Anyway, in addition to watching the show, at least 75% of my toilet time has been spent reading the books that the show came from, so at this point it's reacted with that weird, secret strain of autism I caught off a toilet seat at Kroger that one time, and I'm pretty well immersed in that world lately. So I think on this stuff a lot, at times when I really should be thinking about things like work or oncoming traffic, and something occurred to me. Lost somewhere in all the talk about this show that world has been ablaze with lately, no one's been mentioning a very important thing: This show is FUKKIN METAL. Seriously, it's like nothing But swords and knights and blood and death and corrupt politicians and  fell magicks and dragons and metal. It's like George R.R. Martin sat there, typing all these books out, imagining that someday, somehow, the words he was setting to paper would eventually get turned into a television show that would someday magically cause a single tear to trickle down the cheek of a statue of Paul Baloff, at least in a more perfect world where there actually were statues of Paul Baloff.
Anyway, partially because it seriously sounded like an interesting idea, and partially because I'm tired of having all my interesting ideas just sort of swirl around in my head for weeks and months until my brain magically erases them, I'm going to do one of those internet things I do, where I start a potentially long, ongoing project that only gets visited once or twice and dies unfinished. But the show's not done and I still have roughly 2.8 and counting of the books left to read, this idea should pop back into my head from time to time. So I like its chances. I'm going to take the characters from this thing and think about them real, real hard and I am going to figure out who are the most FUKKIN METAL characters from this particular universe, and maybe someday twist it into a top 20 power ranking list, going to super insanely metal at #1 to just pretty darn metal or whatever at #20. And of course, the series isn't finished yet and the books are nowhere near finished, so characters might rise and fall, depending on their actions and/or gruesome deaths. But to clarify, I'm not going to dork analyze the metalness of everybody. Some characters even in something like A Song of Ice and Fire are still just going to be obviously non-metallic, and all five million of the little background characters simply aren't going to be worth the time. Like G.R.R. Martin is a dude who cranks out 1,000-plus page books on the semi-regular, and I'm a dude who seriously updates a pissant blog about thrice yearly, so if that guy couldn't come up with more than a solid paragraph or so for Jeyne Poole or Ser Jacelyn Bywater, I ain't gonna be the one to fill in that gap. Of course, this is the internet, and the internet is a sick and terrible place, so I'm sure that sooner or later, someone will send me links to some sort of "fuckyeahjacelynbywater dot tumblr dot com" blog or a three-thousand chapter pornographic fan fiction site dedicated to Jeyne Poole's erotic encounters with Goku or one of the Animaniacs or whatever, and then I'm going to have to turn off my internet and start making bombs in the lawnmower shed out back. Dark and full of terrors indeed. But yeah, sticking to only the debatably metal and at least semi-major characters, and in no particular order. Also, in the event that you haven't read a book or watched a show yet, you should probably just turn around right now, lest things be ruined for you forever. As in spoilers and whatnot. And in case anyone's just skimming the introductory paragraph, the way I do with Cracked articles, I'm just going to say SPOILERS SPOILERS SPOILERS SPOILERS OH GOD TURN AROUND THERE'S SO MANY SPOILERS, in bold capital letters. Anyway, I'm going to do this two characters at a time, both in the name of making sure these things don't get too long and in the contradictory name of making sure these things aren't too short. Let us begin:

NED STARK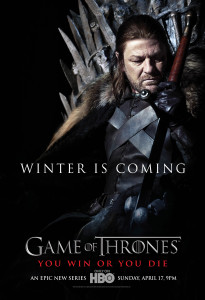 Eddard "Ned" Stark, Lord of Winterfell, Warden of the North, and Hand of the King
I guess in a lot of ways poor ol' Ned did have a lot of metal tendencies, like long hair and a pretty bitchin' sword, and his possession of what can best be described as a suicidal level of personal honor is something that the dudes from Manowar and Amon Amarth would probably be hella down with. But man seriously, this dude was just so uptight sometimes, and he was all about laws and rules, and even when he finally did say "fuck all y'all, here's how it's gonna be," he still did everything as by-the-book as possible, and maybe if he had just pulled out his two-handed great sword and just been like "FVKK U ALL I'M GONNA THRASH YOUR HEADS" he might have ended up a foot or so taller than he was in the end. So I hate to tell you guys this, but Ned Stark really wasn't all that metal, honestly. Like if young Jon Snow was starting to get really into Iron Maiden, instead of yelling "FUCK YEAH, UP THE IRONS," he'd just sternly disapprove, but not like in that shitty way, like the one kid's parents you knew who would tell you that you couldn't play Dungeons and Dragons at his house because she "saw a show on that stuff," and you were hoping for the sake of any respect you had for them that the world "Geraldo" would never enter her tirade, but it always would, and you'd just feel so sad for the world. So very sad. But still, Ned would be all, "I dunno, Jon's growing up and he can make his own choices about this sort of thing, but I'm worried that he'll fall in with a bad crowd, like some wildlings or somebody like that. So I better sit down and have a talk with him. Just as soon as I get back from King's Landing." But you had already had the end of the first season spoiled for you by the internet, so you'd be all "NO NED, TALK TO HIM NOW,  DON'T GO TO KING'S LANDING! ROBERT'S YOUR BOY, HE'LL UNDERSTAND IF YOU DON'T WANT TO BE THE HAND! DON'T GO, NED, NOOOOOOOOOO!"
And then Bruce Dickinson would be all "Waaaittiiiing in my coold celll, as the belllls begin to chiiiiime," except it would be more meaningful this time, and Hodor would be all "Hodor," but like in a sad tone, you know? But no, I don't think Lord Stark was all that metal, relatively speaking.
METAL LEVEL: Low, not like easy listening or anything like that, but not very rocking, all the same.
BANDS/GENRES/ REPRESENTED: Maybe trace amounts of power metal?
ROBERT BARATHEON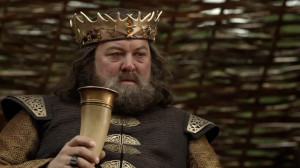 Robert Baratheon the First of His Name, King of the Andals, the Rhoynar, and the First Men, Lord of the Seven Kingdoms, and Protector of the Realm
HEY GUUUYSS! LET'S GO GET FUCKIN DRUUUUUUNK! AND LET'S GO KILL SOMEBODY! FUCK THAT, LET'S GO KILL LOTS OF PEOPLE! AND WILD BOARS! LET'S KILL SOME WILD BOARS! THEN, WE'RE GONNA GO FUCK SOMEBODY THAT WE DIDN'T KILL, AND THEN WE'RE GONNA GET EVEN MORE DRUNK! FUCK YEEEEAAAAH ACE OF SPAAAAAAAAADES!
Holy Christ, King Robert was basically what would have happened if Lemmy was a chubby dude born into a powerful family.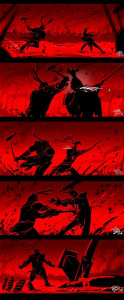 "Don't try to run, don't try to scream, believe me, the hammer's gonna smash your dreams"
METAL LEVEL: Extremely high.
BANDS/GENRES REPRESENTED: Motörhead, Motörhead, Motörhead, a thousand times, Motörhead.
NEXT TIME: Shit gets real, as we take a look at the rock 'n roll stylings of The Greatjon and get kvlt as fvkk with The Bastard of Bolton.
---