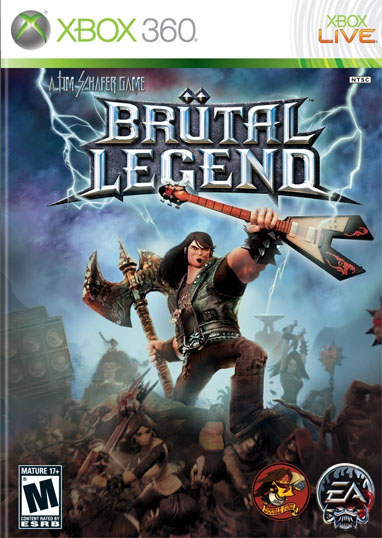 System: XBox 360 (also released for the Playstation 3 and PC, but I'm only going to actually list the system I played it on)
Release Year: 2009
Developer: Double Fine Productions
Publisher: Electronic Arts
Best Football Card I pulled in 2009: 2009 Bowman Draft Picks Platinum Malcolm Jenkins 1/1
Cool Heavy Metal Album From 2009: GWAR – Lust in Space
YOOOU GUUUUYYYYS. This would have been the most perfect video game possible when I was fifteen. I mean, if I had been fifteen around 1985 or so. And if 1985 humans could comprehend a video game that wasn't just flat colored blocks that went BLEEP BLEEP BLOOP. And if whatever weird strain of autism I have didn't make me wait until I was sixteen to start getting into The Metal. And if my appreciation for power metal didn't start at some point in my twenties. But you get the point, I hope.
This game is basically Tim Shaffer's intimate, filthy love letter to the very concept of heavy metal, and everything it might stand for in the minds of people who would dare to spell Heavy Metal with capital letters. Like the opening scene of the game involves downtrodden roadie Eddie Riggs (voiced by Jack Black, playing himself, because much like Danny McBride, that's what he should always be doing) having to put up with the bullshit of a terrible, spoiled nu-metal band. (think pre-crisis Linkin Park, before the backstreetly-boyish sounding dude saw the writing on the wall, bought some thick-rimmed glasses, and started screeching the way Kid Rock fans think is what emo sounds like) And then, a bunch of insanity happens, the entire band is gruesomely killed, and Eddie is magically transported to A METAL LAND IN AN ANCIENT TIME. From there you join a ragtag group of hesher rebels trying to free the Brütal Land from the forces of evil, which includes glam rock posers, Hot Topic/Nightmare Before Christmas goth posers, and demons rocking a weird S&M/Catholic Church kinda look, led by a dude voiced by freaking Tim Curry. TWO THIRDS OF YOUR ENEMIES REPRESENT FALSE METAL, YOU GUYS, AND THE OTHER THIRD IS PENNYWISE THE CLOWN. In time, your ranks grow until your allies include Rob Halford, Lemmy Kilmister, and Ozzy Osbourne pretty much just playing themselves, and Lita Goddamn Ford playing some sort of black metal jungle lady who rides around on a fire-breathing gorilla/cat thing with Gene Simmons makeup. Holy shit. And as well as chopping hella dudes with a big ol' axe, you can also kill people with guitar solos, which were recorded in real life by Glenn Tipton and K.K. Downing, and the pivotal parts of the game turn all Real-Time Strategy, where you command your Army of Metal on a field of glory, which is the most metal thing anyone can do in life. And this is all in addition to the crazy-ass metal-as-all-getout soundtrack, with over 100 songs, plumbing the depth of everything you'd ever want in a game about Metal, aside from Iron Maiden, which is a bummer, but still. It runs the gamut of everything from Mastodon to Diamond Head to Ministry to Def Leppard to Emperor to UFO to Carcass, Ratt, Enslaved, and all points in between, all playing while you run over shit with your car.  Everything about this game is beautiful and perfect.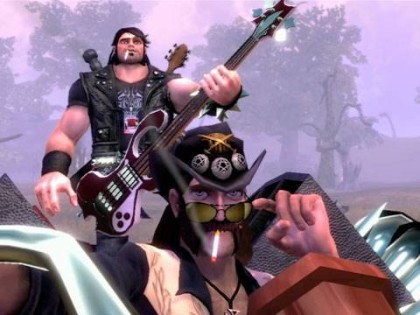 Beautiful and perfect, just like Lemmy Kilmister.
The Case Against: The big problem people seem to have against Brütal Legend is the some pretty blatant false advertising this game got prior to release, where the battlefield strategy parts went completely unmentioned, and it was hyped up as a God of War-style hack-and-kill sort of game. And yeah, there's plenty of hacking and killing, but the major "boss battle" parts are all Real Time Strategy. But hell, God of War already exists, and people not giving two shits about Dante's Inferno kind of indicates that the world only needs one God of War series at this point. So fuck all y'all, the strategy parts just make this its own semi-unique game, and I'm sorry y'all are too dumb to do anything but run into a crowd of dudes, swinging your axe until you die again. My complaint is that the story mode is too short, to the point where once I finally got used to leading my army to glory, the game was over. But I guess "there should have been more of this game" is kind of like praising with faint damnation.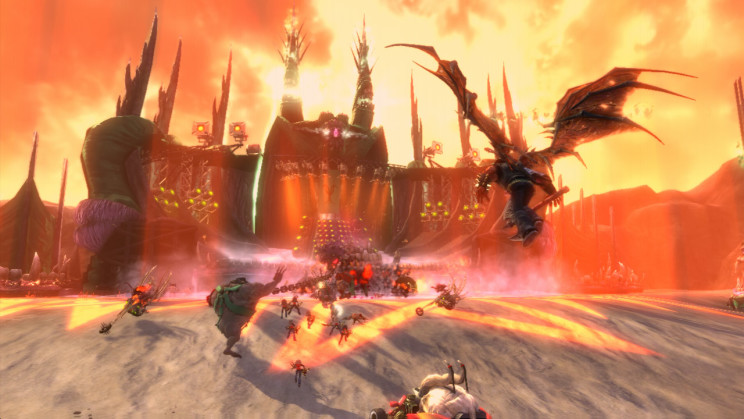 Which is probably the best kind of damnation, honestly.
(Since I have no interesting personal memories of this one) TOP TEN SONGS ABOUT HEAVY METAL OFF THE TOP OF MY HEAD:
Current Top Million Billion Video Games of All Time, as of 7-29-2015:
Brütal Legend (2009 EA/Double Fine, Xbox 360)
Mike Tyson's Punch Out!! (1987 Nintendo, NES)
3-10,000,000,000,000,000. TBD