Just so you know, basically everything from the old website still exists, either in the form of files from my computer or the old Blogger account that no one seems to remember anymore. And since an awful lot of that stuff didn't suck, this will be my way to start trickling it onto this place, so it doesn't go away forever. Plus, it's an easy way to actually post something on a regular basis once in a while. And in the case of this one, unless I get lazy, it'll set up the next actual new thing I do. Awesome.
Originally appeared at Web Surf Nicaragua September 25, 2010.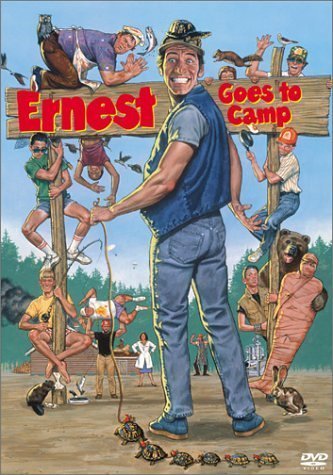 More like "Ernest Goes to DEATH Camp," am I right?
I was a strange child.
But I'll get to that in a minute, because I have to provide a little background here. There was this dude back in the day. His name was Josef Mengele. And for those who only had a high school history class or don't watch The History Channel on the regular, that guy sucked. Like seriously. As the chief Nazi mad scientist of the holocaust, this guy was pretty much the worst guy ever. How bad? Well, he's the inspiration and sole subject matter for the most evil song Slayer ever did, for starters. Think about that, while I say it again: This dude inspired the most evil song Slayer ever wrote. Do you even realize the kind of ground that covers?
And this is a song about real shit that really happened. That dude was basically the most evil dude in a time and place that was pretty much a giant sea of evil dudes. Like a great white shark in a Pacific Ocean of assholes. Terrible.
But I didn't come here to express the daring and unpopular opinion that Josef Mengele was not a good man; I'm here to share something from my childhood. There was this movie that came out when I was seven that was one of the greatest films ever to be made: Ernest Goes to Camp, starring misunderstood genius Jim Varney as the title character. And in it, there's this scene, which I couldn't find a clip of specifically, but someone threw the whole movie on YouTube, and the moment in question is right at the beginning of part two here:
If you don't feel like watching or are on dial-up internet welfare or something, I'll explain: Ernest has to get vaccinated, and covers for his fear of needles by talking up what a bad motherfucker he is. When he gets stuck, though, he freaks out and starts screaming out wild confessions, specifically, "I did it! I took the Lindbergh baby! I am Josef Mengele! OOOWWWWWWW!"
But you see, as a small child, I knew this scene was funny, but I had no idea as to what was really going on. I knew nothing of the Lindbergh baby, and I damn sure didn't know about Nazi war crimes. Shit, I was seven; all I knew was G.I. Joe and the Transformers. (and speaking of war crimes and G.I. Joe, the U.S. basically banned flamethrowers for being hideously evil in like 1978, yet the G.I. Joe team had like three or four different flamethrowin' dudes all the way up into the 1990s. Makes you wonder if Cobra was right all along.) As far as I knew, Ernest, having just been stuck with a needle, was freaking out and screaming wild, meaningless crap, that might as well have been gibberish to my young ears. And for some reason, the second half of the quote really stuck with me as a hilarious thing, and like most little kids who don't know any better, I repeated it a lot. Like this one little dude who saw a Ninja Turtles cartoon where someone said something about "big league gear," and kept repeating "this is 'biggly' gear!" all day long, except what I said was said with better pronunciation and was working on a completely different level altogether.
What I'm trying to say here is that in the late 1980s, at the Hill apartments in Cleveland, Mississippi, it was really not all that uncommon to see a bunch of little kids standing around, and have the oldest and largest of the group suddenly yell "I AM JOSEF MENGELE! AAAAAHHHHHHHHH!"
Looking back, I have to wonder how many adult minds I completely blew with that.
I was a strange child.