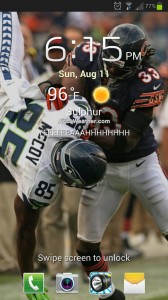 INTRODUCTION!
So a while back, I got a new phone. Then, I broke it and got another one along the same lines, but presumably better. I mean, the screen is bigger and it can do weird stuff with sending files into other people's phones and your own computer and whatnot, but I guess the main thing is that it's marketed well enough where you can get a case for it that's something other than "generic single-color rubber slip-on thing," sometimes even in actual stores, and not just those little mall booths where they go to Amazon, buy a bunch of cases for $3 each, then ask you $37 for them. Anyway, that information has nothing to do with most of this, but it provides texture for this little introduction, if nothing else. The world needs more textures. Anyway, as well as useless bullshit like making phone calls and allowing me to communicate with the outside world, it's a pretty sweet MP3 player. And I got lots of MP3s. So many of them. Like a hundred, man. But seriously, at some point, I ripped every CD I had to an external hard drive, (oh man, remember when computers didn't come with like 15 squillobites of storage, and you had to augment what you had internally?) plus added in all that illegal shit from the Great Downloading Binge of 2000-2004, (which totally didn't happen, and they're all hella-legal, seriously) and it all added up to too much crap, and in a spree of going "ooh, ooh, I'll add this and this and this oh man," I added way too much to my phone. Too much, as in 1,259 songs. Wow. On one hand, hey right on, variety, but on the other, I do my musical-type listening almost completely on the drive home from work, (I listen to podcasts on the drive up there, because in the darkness of three in the morning, still in the process of waking up and on deer-infested roads, I don't need to get all Slayered up and have one of those "oh dang, I didn't know I was going that fast" moments.) and I really don't need to be reaching down, looking at tiny screens, and skipping stuff I don't want to hear at 65-70 mph, you know? (Ha ha, oh man, I obey speed limits, what a DORK.) So, partly inspired by sitting on the toilet and  reading about Raven Mack's JJ Krupert thing a while back,  and partly inspired by not wanting to perish in flames, I have devised a system to cull the herd.
HOW IT WORKS: First, I put the thing on shuffle, all the way home, without skipping a track. Then, I go back over my Last.fm recently played list (mentally adding stuff that it left off the list for some reason, like the Armored Saint track today) and pit each song against each other in the order they got played. So the first song fights the second song, etc. The winner of each song fight (the one I liked more, duh) stays on the phone, and the loser gets deleted. And just in case "Ace of Spades" goes up against "Breaking the Law" and it's an awful thing for one of those to go, I'll choose one song from each day to get a second chance. The second chance song stays on the phone until the next day, when it faces that day's second-chance song, with the winner staying for good. Also, if two songs I can't stand to lose end up that way, I'll just keep them both, because fuck your rules, man. I'm a loner, internet; A rebel. But yeah, and then, I come home and type about them, and lost of people get pissed off when they click a Google link hoping for Rapidshare downloads. Suckers.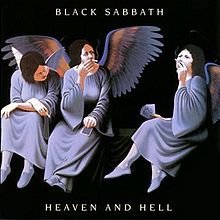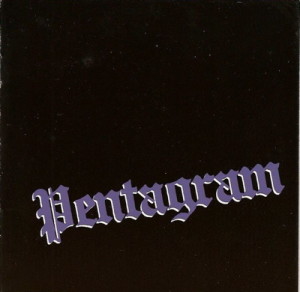 1. Black Sabbath – "Heaven and Hell" vs. Pentagram – "The Deist"
"Heaven and Hell" is pretty much one of the masterpieces of the heavily-metallic arts, and no matter how unaware of post-Ozzy Black Sabbath the average dude out in the streets may be, it has to get serious consideration as one of the awesomest things Sabbath ever did. And awesome things Black Sabbath did that involved either Ozzy Osbourne or Ronnie James Dio covers an awful lot of ground, you know? It's just crazy good, and it still makes me want to punch that Coheed and Cambria guy in the face, because of those things he did to it last year. Anyway, this was a no-brainer, and out of all eleventy-million songs on the damn thing, there were very, very few that stood a chance here.
"The Deist" is the hapless victim here, a moderately deep cut from an album that's actually on the phone in its entirety, thanks to me literally paying actual money for it, which in this case meant paying six imaginary digital dollars to Amazon for an imaginary digital copy. The Future is here. The bummer is that this is awesome.  It's a killer song that mentions Satan pretty early on and has this crazy guitar sound that makes me think of what would happen if Thor had use for a lawn mower. Really is a bummer that the world at large (or at least a small portion of it) went completely unaware of this band until that documentary about Bobby Liebling being a crack-addicted real-life Gollum (although he's cleaned up a lot lately and has been fully upgraded to Smeagol status) came out. I think I first heard of Pentagram when the Be Forewarned CD got reviewed in some magazine my brother had, but I'm not gonna lie, I never bothered to actually listen to them until some time late last year. So I'm a poseur, but not a complete one, maybe? Anyway, this is good and it's a bummer that it has to lose, but no worries, as this album still has a few goddamn untouchable songs on it, so there will definitely still be a lot of Pentagram in the rotation.
WINNER: Sabbath.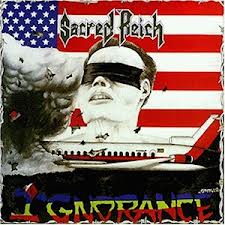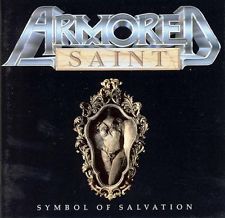 2. Sacred Reich – "Victim of Demise" vs. Armored Saint – "Warzone"
This was actually a tougher call that you might think. Like Sacred Reich, they're my boys, you know, to the point where a lot of people I internet-know still think of me as "the Sacred Reich guy." And "Victim of Demise" is one of their more killer songs, from the first album when they were still kinda like Baby Slayer, just going nuts all over the place, and hadn't yet settled into that comfortable middle-of-the-road groove that a bunch of bands did between like '88 and '90, where they all ended up releasing their best stuff, but then either broke up, (Death Angel) fell off the end of the Earth, (these guys) or just turned into complete foolishness. (Metallica) Anyway, this is early Sacred Reich at their Slayerest, going on about rotting corpses and diseases and such, and it's as awesome as you should expect.
But you know, I barely have anything by Armored Saint, (just this and a couple compilation tracks) and of all that, this is probably my favorite thing of theirs, so it would be messed up to knock it off there. Especially considering that if I ever saw this thing to completion, there would still be a ton of Sacred Reich on there, including at least two – maybe three or four – other songs from the Ignorance album. So in a shocking upset…
WINNER: Armored Saint. HOWEVER, "Victim of Demise" stays alive for now as today's second-chance song, with apologies to Pentagram.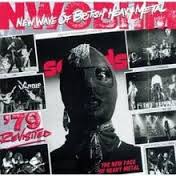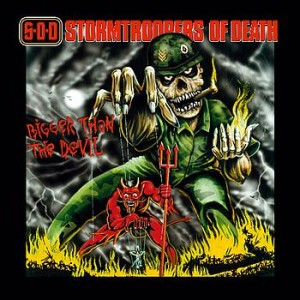 3. Diamond Head – "Helpless" vs. Stormtroopers of Death – "Raise Your Sword"
Oh man, Diamond Head. Those guys are awesome, and on one hand, it's a bummer that they're known solely as the band that's had like five songs of theirs covered by Metallica at one point or another. On the other hand, I guess being that into Diamond Head earns points in Metallica's favor. Anyway, you probably know the Metallica version, and this is a lot like that, except with singing and notes and stuff, plus the entire freaking final third or so of the song that Metallica refused to play, because at that point, they were still trying way too hard to act all, "grrrr, we are GRUFF and can't enjoy things at all, including girls." Same reason they left the "OOOOOHH BAAAAYBEEEE, I CAN ROCK AAND ROOOOLLLLL" part out of "Crash Course in Brain Surgery." But yeah, awesome.
There was a window of a couple of years where S.O.D. was like my thing, and I got all super-pumped when Bigger Than the Devil came out and super-upset when people got all butt-hurt over it not sounding like Speak English or Die. Anyway, this was a bonus track on the deluxe version of the CD, or in real-life terms, one of the two songs I downloaded off Audiogalaxy with my 56K welfare internet, because buying two versions of the same CD is for chumps, suckers, and sucker-ass chumps. But yeah, this is from the dying days of the band, when Billy Milano decided that they should become the Weird Al Yankovics of heavy metal, which sounded like a really good idea until he put out that useless Rebel You Love to Hate CD. But yeah, this is S.O.D. making fun of Manowar, and even if it was completely terrible, it would be worthwhile just for the line, "Hack and kill, then kill some more, kill and hack, then hack and kill." But man, the last few minutes are mostly just Billy screeching out high notes that no one thought he'd be able to hit, and it gets kinda tedious when you're driving, and you've vowed to not skip to the next song.
WINNER: Diamond Head.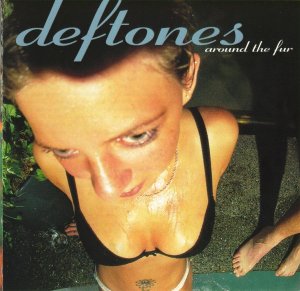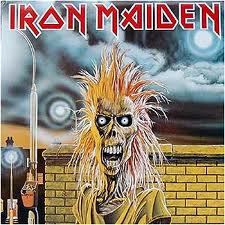 4. Deftones – "My Own Summer (Shove It)" vs. Iron Maiden – "Prowler"
Welp, this one was over before it started. One one hand, The Deftones were probably the most tolerable band to hit the scene when nu-metal hit and things got all Korny for a few years, but on the other hand, IRON MAIDEN. And man, the self-titled Maiden album is pretty loaded, and if I had to ditch something from it, this would have been the song I could have stood to see go, which opened the door for an Armored Saint-style upset. But really, I was only ever just sort of barely, marginally into this band, and while "My Own Summer" was like everybody's summer jam of 1997 or whatever, the title track was like a hundred times better, and it was this band's only chance to upset anything by Iron Maiden. Also, during the quiet parts, Chino's whisper-singing is just disconcerting to me, like you can hear all his consonants extra hard, and it just sounds all wet and gross, like he's singing in my ear as I'm tied to a chair in his rape-dungeon or something. Which might have a been a plus for all the folks who were rocking the XXXXL Jncos, six-foot wallet chains, and Adidas visors at the time, but I don't cotton to it none, mister.
WINNER: FUKKIN MAAAAIDENNNN
EVERYTHING ELSE: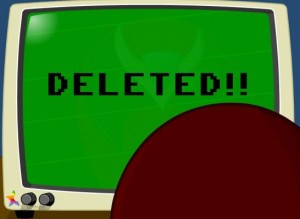 (Also, "The Warrior's Prayer" by Manowar came up, but it's not an actual song, so it went away automatically.)