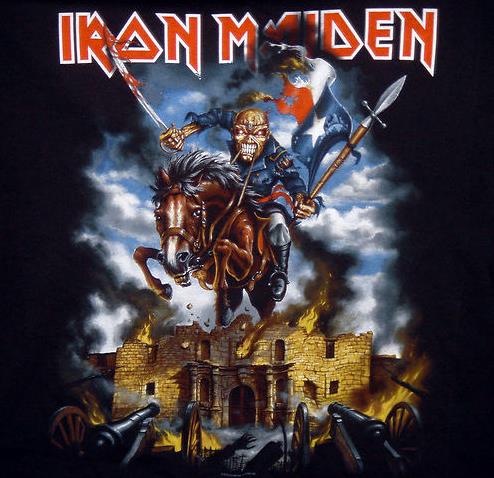 Last time on this trilogy of blog posts that's taken more time to put together than the trip itself, Sarah and I repeatedly made narrow escapes with our lives on the Streets of San Antonio and I rambled on about lucha libre for a while. But now the time has arrived to fully inform you people on the night of the reason for all this hullabaloo, and I'm not going to be cryptically sneaking Iron Maiden lyrics into this one, (You guys noticed that on the first two parts, right? Right?) because this was the night when they were actually there, right goddamn there, all up in my face, being the face that they were desperately trying to rock completely off of my head. A glorious night of heavy metal and explosions and light and sound and glory and explosions and additional explosions. But I'll get to that in a minute.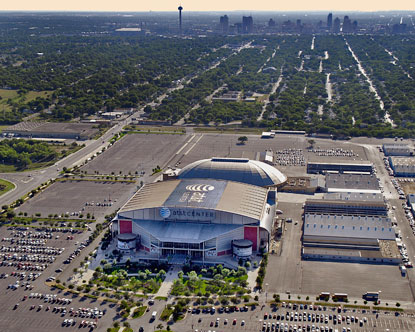 I totally took this picture myself, because I can jump real high.
First, we had to get to the building, which started with a whole lot of "oh no, don't worry about it, we can drive ourselves there, it'll fine, no really, driving is fine, seriously we mean it," which led to Sarah's dad driving us there, which lead to a refresher course in the True Meaning of Ultimate Terror.  Of course, we left pretty early, so no amount of completely inexplicable wrong turns in a straight-line drive down one road could derail our quest to be the lines and get a good spot, right up front, where all the metal was going to happen, with the guitars and the yelling and the explosions and what-have-you. So we got there, and we got in the long-ass line. Awesome. Ten minutes later, oops, that was the wrong line, this one's not for paperless tickets. So we get in another long-ass line. Ten minutes later, oops, that was the wrong line, this one's not for general admission. So we get in another long-ass line. Oh hey, this one's the right line! Oh, but your debit card doesn't work. So we get in another, albeit much shorter, line and since I am the genius king of men with a smart-ass phone and an email opened up on it right there for all to see with my name and relevant numbers and such-like to show the dude at the ticket resolution counter, BAM, we got tickets all of a sudden. Super great. Of course, all of this running around and getting into the wrong lines and the dude's card reader being broken because THAT'S TOTALLY A NEW CARD just had to have ruined the whole thing, right? Like the time we lost running around after tickets was going to put us at the back of the arena, behind a giant pillar that's usually not there for Spurs games, right next to a dude who farts a lot and likes to talk about Ron Paul, right? HA!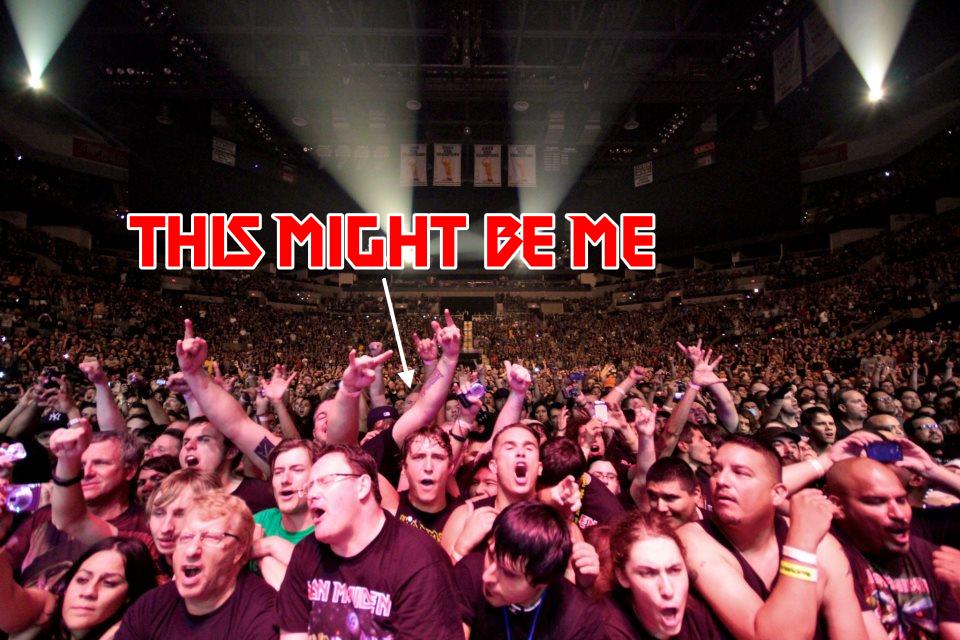 Here's a picture from the "tag yourself" section of Iron Maiden's Facebook page, taken from right in front of the stage, and while I may be mistaken, that tiny sliver of a bald head that the arrow is pointing to may very well be my head. Can't be too sure, but I distinctly remember the dude in the hat being directly in front of me and a little to my right. Or for a better view of how things were, here's this picture of Maiden's crew clearing all of the opening act's crap off the stage: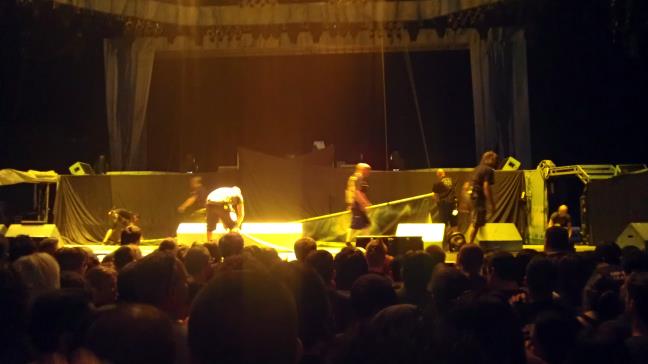 Somehow, we ended up dead center, maybe forty feet or so back, and I had a pretty nice view of pretty much everything. Sadly, I had to specify myself in that last sentence, because Sarah's pretty much a tiny little Hobbit person, and any situation where people end up standing in front of her is not going to be a good one for looking at things. In a weird sort of way, this worked out okay in the end, because as a Halfling, she had to use her phone's camera pretty much as a digital periscope to see over everybody, and we ended up with a whole bunch of footage of the show as a result. And since it was done to serve the practical purpose of her actually being able to occasionally see Bruce Dickinson, all that footage doesn't come with the attached shame of being the asshole at the show who's got their phone up the whole time, barely paying attention to anything but the phone itself, because MUSHT THE FIRSHT TO GET THEIR VIDEOSH UP ON THE YOUTBUESH SHHHHHHHHTTTBBBTTTTHHHH *fart*. But yeah, somehow, we ended up with decent seats, aside from the part where there were no seats, because we were in the section that wasn't for pussies, pussy. Then, after maybe another thirty minutes or so, stuff happened.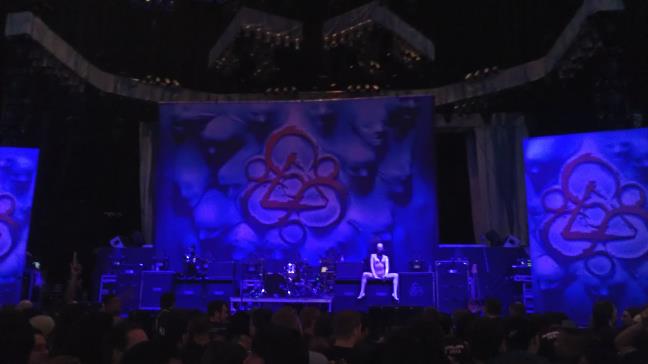 Here's Coheed and Cambria's stage setup. I didn't take any pictures of the actual band because I was temporarily DEAD.  Dead from BOREDOM.
The problem with an Iron Maiden show is that somehow, they feel that they aren't enough by themselves and insist on taking along an opening act. And it's a fairly common thing for a band to be a band that no one else can follow, but Maiden has reached a level where they're a band that you can't even precede. I think Henry Rollins did a whole bit on this back in the day, and it's completely true: There's no such thing as an opening band at an Iron Maiden concert. The bands playing at Iron Maiden shows in the period of time before Maiden themselves take the stage are merely extended interruptions, obstacles to what everyone is actually there for. If you're opening for Iron Maiden and are not of equal or greater legendary status , (Like the earlier shows on this tour, who got Alice freakin' Cooper, instead of this bunch of buncocky that we had to sit through.) the night is not going to go well for you. So while I had previously heard a little bit of Coheed and Cambria's stuff and fully, completely disliked it, I was ready to feel sorry for them for what I knew was going to end up happening. And yeah, for maybe a few minutes of their boring douche-prog, as I watched their best efforts to rock out met with motionless silence by the Maiden crowd, yeah, I did kind of feel bad for them. Because yeah, they sucked, but they were playing their asses off, and I suppose they suck in a way that's got to appeal to somebody, or they wouldn't have become a big enough deal to get on this tour, you know? Then, some bullshit happened.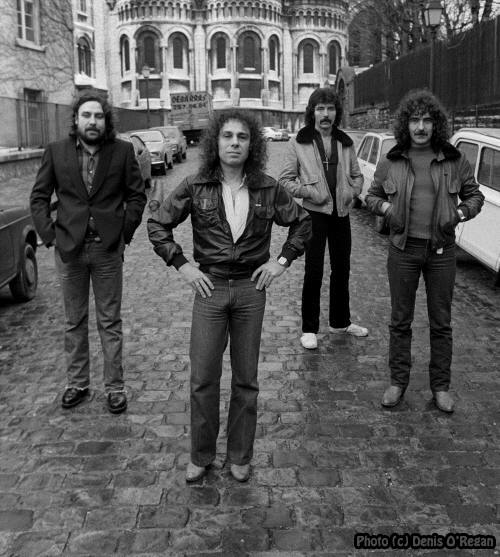 In what I'm pretty sure was calculated to be the moment where my Heavy Metal Grinch heart was supposed to grow three sizes and let love open the door to my heart for Coheed and Cambria, they busted out into a cover of the Dio-era Black Sabbath classic "Heaven and Hell." But man, here's the thing. I know a tiny little guy who sings songs about rainbows and dragons and stuff like that is a thing that probably lends itself well to parody, and I'm sure that the unflattering impression of him that Coheed's singer can apparently do of Ronnie James Dio was probably pretty funny and entertaining at some point. But you see, once a guy dies, it's not quite so fucking funny anymore, and especially not fucking funny when you're using it as some sort of misguided tribute. And it was at that point, as I stood there, wearing my goddamned Dio t-shirt and watching that Polamalu-looking turd switch from his usual high-pitched "Geddy Lee, but if Geddy Lee was an even worse singer than Geddy Lee" vocal style to something that could have only been a "ha ha, let's make fun of Dio" voice, complete with weird and whacky facial expressions, because guys, heavy metal is such a stupid and comical thing, am I right, building full of tens of thousands of Iron Maiden fans? Ugh. And I know I wasn't the only one who thought this, because as I looked around, the whole place was a sea  disgusted faces, all but literally screaming "I DISAPPROVE OF THIS," and one dude in front of us actually turned around toward me and bowed down and apologized to my shirt. But man, this was the one moment that truly solidified my opinion of Coheed and Cambria as bullshit forever, and confirmed any preconceived notions I might have had about them as just a bunch of shitty hipsters who had figured out that they were actually really good at playing their instruments, but there was no way to show off doing emo/indie crap, so they reluctantly decided to slum it as something resembling a heavy metal band.  And you know, I really don't want to get all "Manowar True Metal Forevermore" Guy here, but once a certain segment of the douche bag community discovered that wearing old metal shirts got you way more scene cred at the Dashboard Confessional show than REO Speedwagon shirts did, there have been way too many bands clogging up the scene who clearly have a whole "oh, ha ha ha, look at us, heavy metal music, how QUAINT" thing going on, so really fuck Coheed and Cambria forever; they can go die in a giant tire fire somewhere. Except for the drummer, though. He just looked so genuinely thrilled to be here, like "oh man, guys, look at the drums that I am playing, this is GREAT," and I can't hate on a guy who seems so happy to be alive. So they can all die except for him, he can have some cake and a Game Boy or something, because he ruled. Screw the other three guys, though. And I'm gonna take the main guy's two-necked guitar from him and hide it somewhere, because he somehow managed to make the 12-string half of it sound exactly like the 6-string half, and it was just so unnecessary. But yeah, before the show, I was not a Coheed and Cambria fan; after the show, I officially became a Coheed and Cambria enemy. Also, to whoever came up with their stage setup and lighting and such: Lighting placed above the band is supposed to point down. You got that right, nice. However: Lights placed behind the band need to point up, preferably through smoke for visibility. If lights are placed behind the band and then aimed down at the audience, all they do is shine directly in the audience's eyes, temporarily blinding us, followed by filling us with the hateful rage of a thousand angry bees. SO YOU DON'T DO THAT. So stupid.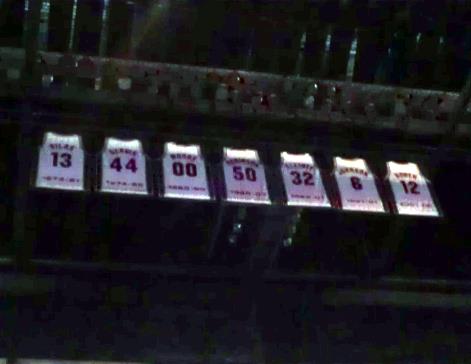 THE ADMIRAL DISAPPROVES OF YOUR SHENANIGANS
After that, all of their crap was whisked away by the roadies, and almost as if to serve as an apology for the previous half hour or so, the PA system blasted a bunch of old metal/heavier classic rock stuff, like Judas Priest and Deep Purple, while we all waited for the thing we came here for to happen.  It was a pretty uneventful half-hour or so, except for this one big tubbo in a hockey jersey who we overheard responding to someone's disapproval of the aforementioned "Heaven and Hell" situation with a really nasal-sounding "eh, it's okay, he's dead now anyway." Made me want to fog up his nerd glasses and hang him upside down from something, while I broke all his DVDs of Kevin Smith movies. Sorry, I'm just kind of pent-up about people who can't appreciate Ronnie James Dio, you know? Speaking of which, going back in time to outside the building before the show started, this older-looking dude in a jean jacket smothered in band logo patches just sort of looked over at me, yelled "RONNIE JAMES" and kept walking, and for some reason, it was the coolest thing ever. Someday, I'm gonna get me a jean jacket and be the old dude at the show who appreciates the younger dude's shirt. I think I actually have a Sacred Reich patch somewhere already. Anyway, we just stood and chilled for a while, and when all the roadies disappeared, the lights got all weird, and the band's unofficial real opening act –  a recording of UFO's "Doctor Doctor" – played, we knew we were about to see some shit. (more…)